You might have heard about Google SEO. Similarly, Pinterest has its SEO. If you know how to use Pinterest SEO, you can be ahead in-game. Pinterest is a changing platform.
A lot of algorithm changes make it challenging to get organic reach. But with correct SEO and hard and smart work, you can be successful on this ever-changing platform. But one thing never changes, and it is SEO. If your pins, boards, and posts are properly optimized with keywords, it is highly that you can stay on the top of the game
Why Pinterest SEO is important?
Pinterest is a hot platform with over 300 million users
It can send tonnes of traffic to your blog and business websites, eCommerce
Pins on Pinterest have a very long shelf life as compared with other social media channels
Pinterest SEO let you get found on Pinterest
A Pinterest pin can send you traffic for a long time
Where to use SEO rich keywords
A Pinterest account is made up of your profile, Bio, Boards and pins. All of these places can be optimized with proper Pinterest SEO. If your account is optimized properly with keywords it can help you get found when someone searches for that particular Keyword.
We will go step by step for creating a successful account from day one. Moreover, an optimised account have better Domain quality. There are a few steps needed to increase domain quality.
Converting to a business account
Claiming your website
Enabling rich pins
1. How to create an optimized profile
I am sure you would have figured out your niche and started your blog, or you are having a business for which you want to start a Pinterest account. In any case, you can create an optimized profile from day one. An optimised profile let you come up in search.
Few things which you need to start are
If you want to use your Pinterest account for your business or blog, you should have a business account. You can create a new business account or convert an existing Personal account to a business account.
A business account lets you use analytics on the Pinterest account. Also, you will be able to convert into rich pins.
If you haven't started your blog,
You can start s blog at as low as $2.95/month. It is not a lot of money and you will get free domain registration for one month. Sign up with Bluehost here and create a little online space to share your ideas and expertise.
Write SEO description for your profile bio:
Start with the name on your profile. Either use your own name if you are a personal brand or you can use your business name. Along with this, you add a few words to describe your business or blog. These should be your niche keywords. Use your logo or your photograph along with your business name.
The second place to insert keywords is your bio which can be written in few words. Use 'About me' to write keyword optimised bio. Here you can write in 160 words about yourself. Again use this place to write keywords to get found on Pinterest.
Claim your website/online business
Claim your website with Pinterest. Pinterest prioritizes the pins created by the website owner. Connect your website to your Pinterest account and increase the engagement on your account.
2. Keywords in board descriptions
Boards are also great for getting found. For this to happen, board names should be keyworded properly. Also, board descriptions should contain keywords which are added naturally in sentences.
3. Create pins and add keyword-rich descriptions
Creating eye-catching pins is the first step in your Pinterest game. Adding keyword-rich descriptions help your pins get found when somewhen search for those words.
Here is an example, I entered "Make money on Pinterest" I got this and the third pin is mine.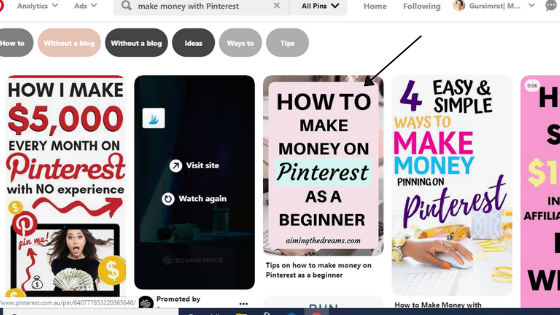 If your pin contains the keyword for which people are searching, your pin can come up in the search for that particular keyword. Of course, it depends a lot on the popularity of the pin also.
4. Keywords in Pin titles
Pin titles are the new feature, but it is also a place to add keywords to increase your reach—pin titles are short but a great way to add a targetted keyword.
5. Optimize the Text overlay with Keywords
If your pins are not about the products, you will get benefit by using keywords in text overlays. Use the same keywords in your blog post title, descriptions, and text overlay. The reason is
Pinterest can read the text overlay along with descriptions
Also, it can see if the image is relevant
So keywords in text overlays is an important aspect of Pinterest SEO.
6. Seo keywords in hashtags
Hashtags are the words followed by a hash(#). They are used similarly on Pinterest as like other platforms. As of now, hashtags can be used in pin descriptions. Hashtags should be relevant to your pin. Using irrelevant popular hashtags will hurt your account.
Using super niche hashtags will not help but using hashtags made of super-niche keyword and related keywords will help your pins to come up in search when someone searches for that keyword.
7. Pin fresh content
Pinterest love fresh content. Fresh means, a new blog post with new URL, new pins or existing posts. Always use a new image while creating a new pin.
You can experiment by cropping and changing the size of the image. Adding some shapes or other elements to the image. Don't use the same image again and again as it will not give you the required distribution.
8. Pin consistently
Consistency is the key to be successful on Pinterest. Instead of pinning all pins one day and nothing for the rest of the week will not help. Space out your pins to be distributed at different time intervals.
If you are doing it manually, try to do it two or three times a day. Or you can use tailwind for this purpose. Tailwind can save you a lot of time and help your pins to get pinned on the optimum time when your audience is online.
You can sign up for Tailwind here and get a free month for pinning
How to do guided Pinterest keyword search
Pinterest has its own search engine called Guided Search. Pinterest itself can be used to do a guided search to find keywords. The primary objective of the keywords is to get found on Pinterest. Here are four ways to get found
Home feed
Search
Following feed
Hashtags
Let us start with how to search for keywords. There are two ways to use the Pinterest guided search engine to find relevant keywords.
1. SEARCHING IN THE SEARCH BAR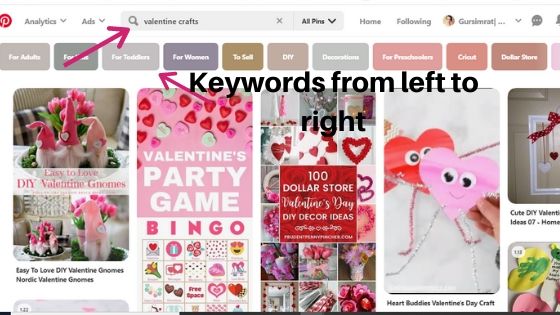 For this, type the keyword in the search bar, you will see a few suggestions by Pinterest. After this click on the one and see what Pinterest suggests. You will see a few suggestions again. You can use these keywords along with the one you typed in the search bar. Use these keywords from left to right. The most popular ones are on left.
2. BY LOOKING AT SEARCH VOLUME
This one is not told so frequently. If you think that Pinterest is a search engine, you should know the Pinterest search volume for the keywords pertaining to your niche. You cannot find this anywhere else but in the Pinterest itself. How you can find the search volume for your keywords? Check here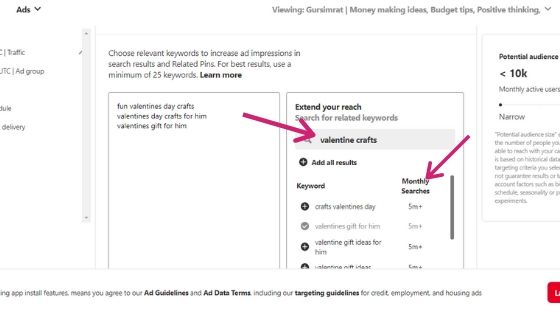 Got to Pinterest adds.
Click on create add and scroll down until you see continue.
After clicking on continue, scroll down and you will see a section keywords. Type your keyword in the search bar. You will see many suggestions along with their search volume.
Click on the + and these will be added to the left box.
You don't have to do anything after this. Just copy and paste those keywords somewhere to use into your pin descriptions. But remember to use these keywords nicely in sentences instead of just stuffing. These can be used as hashtags also.
After you have picked semantically related keywords, you can use them in your profile bio, board descriptions, and pin descriptions.
Pinterest is a gold mine of traffic for new bloggers. As you know, it is a Visual search engine that drives traffic to your blog tremendously. The problem is it takes some time to learn the ins and outs of Pinterest.
There are so many courses in the market that can help you in finding out the correct strategy to grow your Pinterest account. But out of these, I have found Pinterest Ninja course to be a comprehensive and wholesome course in giving a boost to your Pinterest account.
If you are not using Tailwind, sign up here and start using it. It is free for scheduling the first 100 pins. If you like pinning with Tailwind, you can upgrade your account anytime.